The Satanic Shelanite Surge!
The Satanic Shelanite Surge!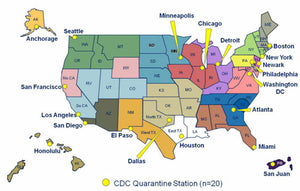 In order to "save lives," many will die!
We have seen this pattern before, perhaps most recently with World War II and the infamous concentration camps where the "unclean" were sent to be "sanitized."
"The (CDC) has introduced 
a "Green Zone" plan
 that involves "shielding" certain people in "humanitarian settings" in order to protect against Chinese Virus infection. This involves relocating and isolating individuals to supposedly "stop the spread" of the Fauci Flu. This sounds eerily similar to the Nazi propaganda back in the 1930s."
"This time around, a scary virus from China (or Fort Detrick?) is the excuse for hauling off the "dangerous" to internment facilities where they can be "cleansed" of the virus and released back into society –
or will they?
"The way the CDC will know who to capture and take away to one of the "green zones" is by using contact tracing apps, the operating platforms for which have already been installed on people's "smart" phones.
The government will determine who is "clean" and who is "unclean" and act accordingly. With this will come the infamous "Great Reset" as planned by World Economic Forum (WEF) chairman Klaus Schwab.
Think one-world currency, one-world government, and one-world religion, just like the Bible foretold would happen. It will be like World War II on steroids, with the targets being not just Jews but the entirety of humanity – a global genocide utilizing all of the technology that was developed after the war."
"Between Klaus' Great Reset, the roll-out of the CDC Green Zone plan, the coordinated virus tracking, and world leaders who are all stating we need a one-world solution, we seem to be headed down a very slippery slope of not only repeating history, but repeating it on an unprecedented scale."
I won't keep beating that dead horse, but suffices to say, this is all about exterminating the

Beacon-Seed

which has long been spread out far and wide, and exactly as prophesied we would be in Gen 22: "in blessing, I bless you, and multiplying, I multiply your seed as stars of the heavens, and as sand which [is] on the seashore; and your Seed will possess the gates of His enemies; 

And the fallens time being so, and knowing this fact, they evidently decided on the global, shot-gun effect to just kill everyone if possible. Killing everyone other than the many tens of thousands that they know are NOT the Fathers seed-souls, but who will be housed through all these coming and greatly prophesied events, down deep in all of their many bunkers which they have been building, worldwide, since the 1950's. Of course, our great Hebrew prophet Jeremiah clearly tells us that it will be them, all of them who will be destroyed in the worst possible ways, down in those rocks. "

and your Seed will possess the gates of His enemies;"
OTHER RELATED NEWS:
This John Moore interview video below is well worth watching. My only issue with this man, as intelligent as he has always appeared to be, at the same time, on certain points that do matter, like the actual shape and orientation of the earth, and things like the theory of gravity, etc., he sticks to the mainstream propaganda versions. His age most

definitely

 has allot to do with that lower level of enlightenment. That said, and just as I found out to be the case many yrs ago, there are major, long prophesied earth changes coming soon, and mass flooding will be a huge part of that. So, on all that and more, Mr. Moore is totally correct. He is also correct in saying that they are trying to exterminate as many people as possible before this comes, so that they have far less people to deal with when they come out of their safe zones. Just that, they won't be coming out. And personally, I get ALLOT of satisfaction out of that tid-bit of information. As well, I also get allot of satisfaction knowing that all of these satanic globalists actually believe that they are the safe ones...  ;)
COPYRIGHT DISCLAIMER:
Disclaimer of liability

Under TITLE 17 U.S Code-512

To the extent not prohibited by law, in no circumstances shall AHLC be liable to you or any other third parties for any loss or damage (including, without limitation, damage for loss of business or loss of profits) arising directly or indirectly from your use of or inability to use, this site or any of the material contained in it to include any pictures, renderings or video content. AHLC is not responsible for the copyright status of any pictures, renderings or videos used on this website or blog articles and their content writers, etc. All materials used herein are for EDUCATIONAL and COMMENTARY only.

Blogs. Browse our blog articles but be aware that the opinions expressed by the bloggers and those providing comments are theirs alone, and do not reflect the opinions of AHLC. AHLC is not responsible for the accuracy of any of the information supplied by bloggers or in relation to any comments that are posted, pictures, renderings or video content in them. You should bear in mind that circumstances change and that information that may have been accurate at the time of posting will not necessarily remain so. READ FULL DISCLAIMER HERE:

DISCLAIMER: If you have received a website page link or other transmitted data found on this website in any form, written or recorded in any format; or, if you have consented to be on this website to listen, to read or participate by asking questions concerning the beliefs and opinions expressed herein; UNDERSTAND, nothing herein is a solicitation of investment nor an offer to sell and/or buy anything. The information presented is not in any way considered or intended to be a solicitation of funds, solicitation for a cult, or to provide medical or nutritional advice or direction of any kind, and is intended only as general and common knowledge. Any information or opinions distributed by any means is not meant to harass, hurt or demean anyone's beliefs or ideas on any subject. Upon the hearing, reading, the collection of, or from the receipt of any and all data, beliefs or opinion as expressed herein, electronic or otherwise, you, as the Recipients, hereby acknowledge this warning and disclaimer. If the acknowledgment is not accepted, Participants and or Recipients must leave this website, and or return the electronically received document copies, or other formatted data in their original receipted condition, to Sender via e-mail services immediately.

NOTICE: This website's information, whether it was found here or forwarded to you from another party, (including any emails, documents, files, attachments, etc.), is covered by the Fair Use Laws and the Electronic Communications Privacy Act 18 U.S.C. 2510-2521. In addition, the information contained herein is intended for specific individual (s) who have chosen and consented to be here and therefore is protected from disclosure under the Gramm-Leach-Bliley Act. If the information or opinions on this site have been sent to you, and you are not the original or intended recipient, or a person responsible for delivering it to the intended recipient, you are hereby notified that any disclosure, copying, storing, or distribution of this data or message and/or attachments, or the taking of any action based on it, is STRICTLY PROHIBITED. If you have received this data or transmission in error, please immediately notify the sender by reply email and delete the original transmission and its attachments without reading or saving in any manner.